This entry is part of the 2014 Italy (& Turkey too!) Travel Blog Series. Read this story and then the rest HERE.
Our breakfast at the hotel reminded me of the ones served in Peru at the hostels where I had stayed with friends a few years back: stale bread, jams, hard boiled eggs, random assorted cookies (that are always a gamble), and instant coffee or tea. But our stomachs could sense the taste sensations in store for us come Italy so there wasn't much complaint.
Our first stop was the Grand Bazaar, which wasn't at all what I had expected. I originally pictured a sea of colorful, open-air tents filled with busy vendors pedaling a wide variety of goods. What stood before me was a large building (wide, not tall) filled with hallway after hallway. It was like a maze of storefronts that went on for days - a sort of mall if you will. I was also surprised to find the vendors all sold one of the following 5 things: clay pots, rugs and blankets, jewelry, leather goods, or scarves.
Not in the market for pots or jewels, it was off to the Topkapı Palace to venture beyond the wall where we had smoked hookah the night before.
The twin castle towers greeted us as we walked up the path to its entrance. We were staring at hundreds of years of history and it was impressive. We toured the grounds for about 2 hours weaving in and out of the various rooms once used for things like containing weapons or where the Ottoman Sultans throne once sat.
A quick note on Rick Steves, our travel guru of choice - I'm sure his name will come up in later entries so it's important to introduce him to you now. Emily and Jeff planned our trip using his guidance and boy where they right to do so. On this day in particular Rick (we are on a first name basis) suggested that the best time to visit the Palace was 10am. When we approached the Palace there were only 20 or so groups of visitors filling the walkways. Upon leaving, there were massive crowds. Thank you Rick Steves.
With our plane departing late afternoon we decided to get one more tourist stop in for the day and visited the Blue Mosque (or the Sultan Ahmed Mosque), THEE tourist destination in the city. To say the Mosque is 'grand' is an understatement. The Mosque is really like no other structure I've ever seen both inside and out. Extremely large in size, the outside is deceiving. One would think a building that massive contains a labyrinth of hallways and rooms, however, once inside it is revealed as one enormous room meant for Muslim worship.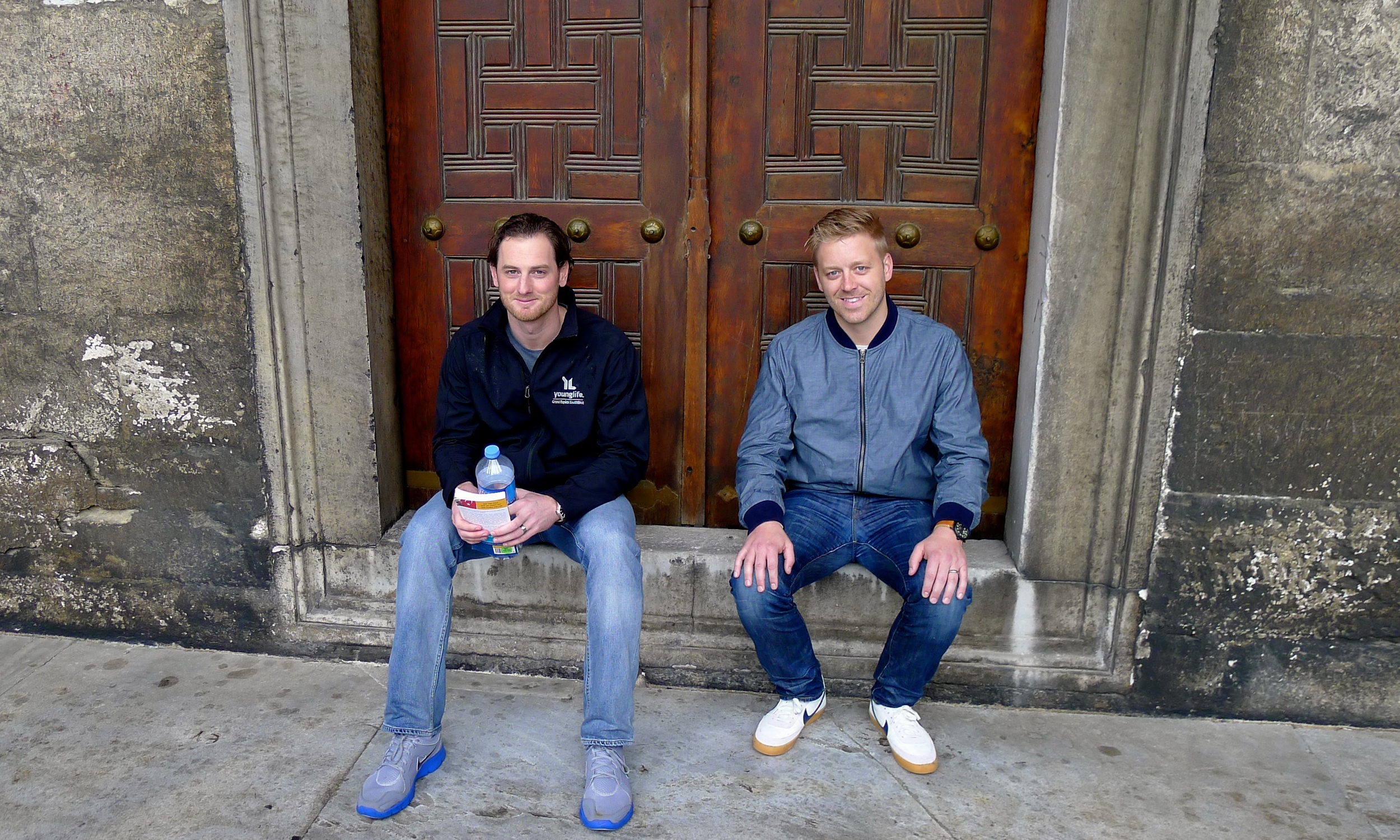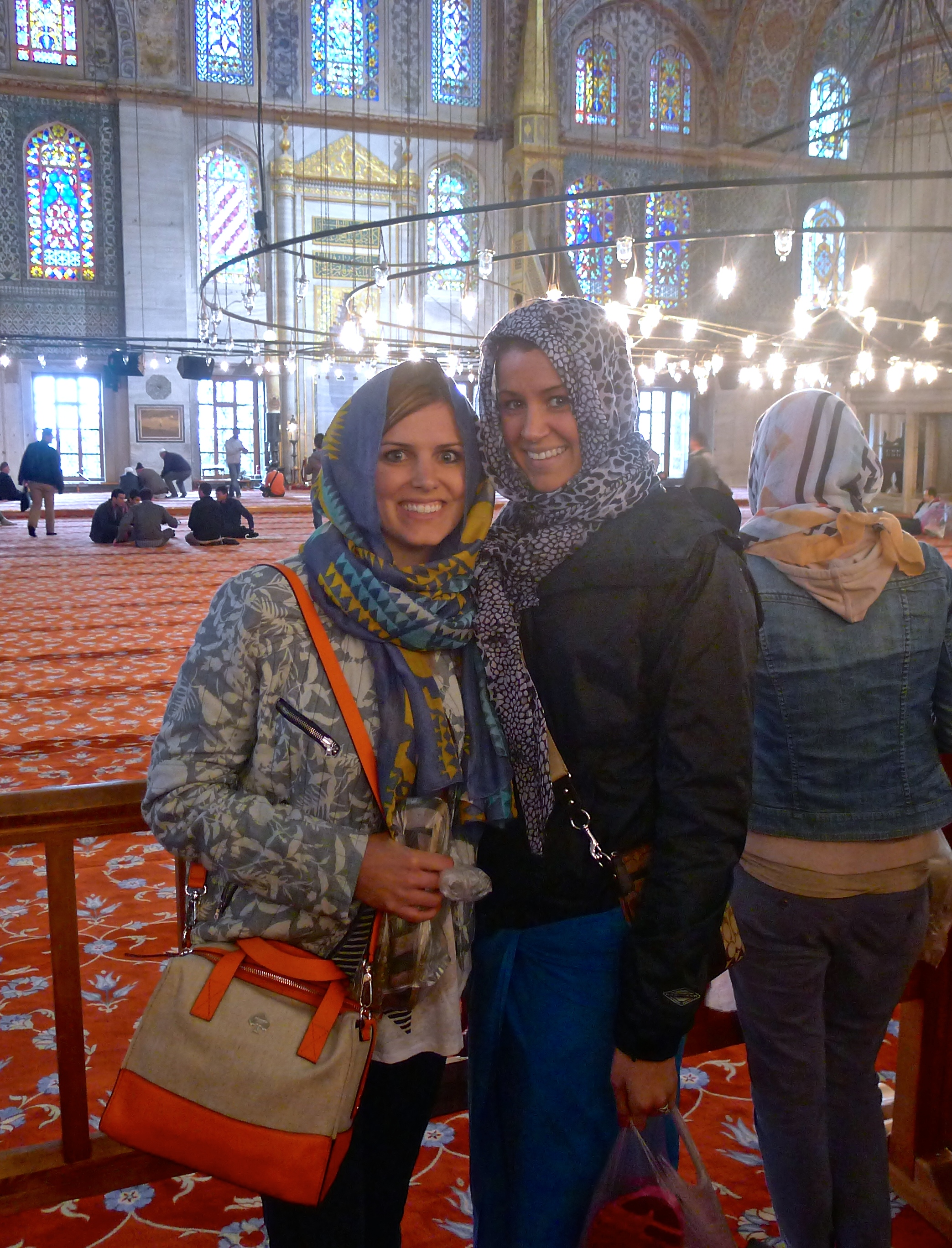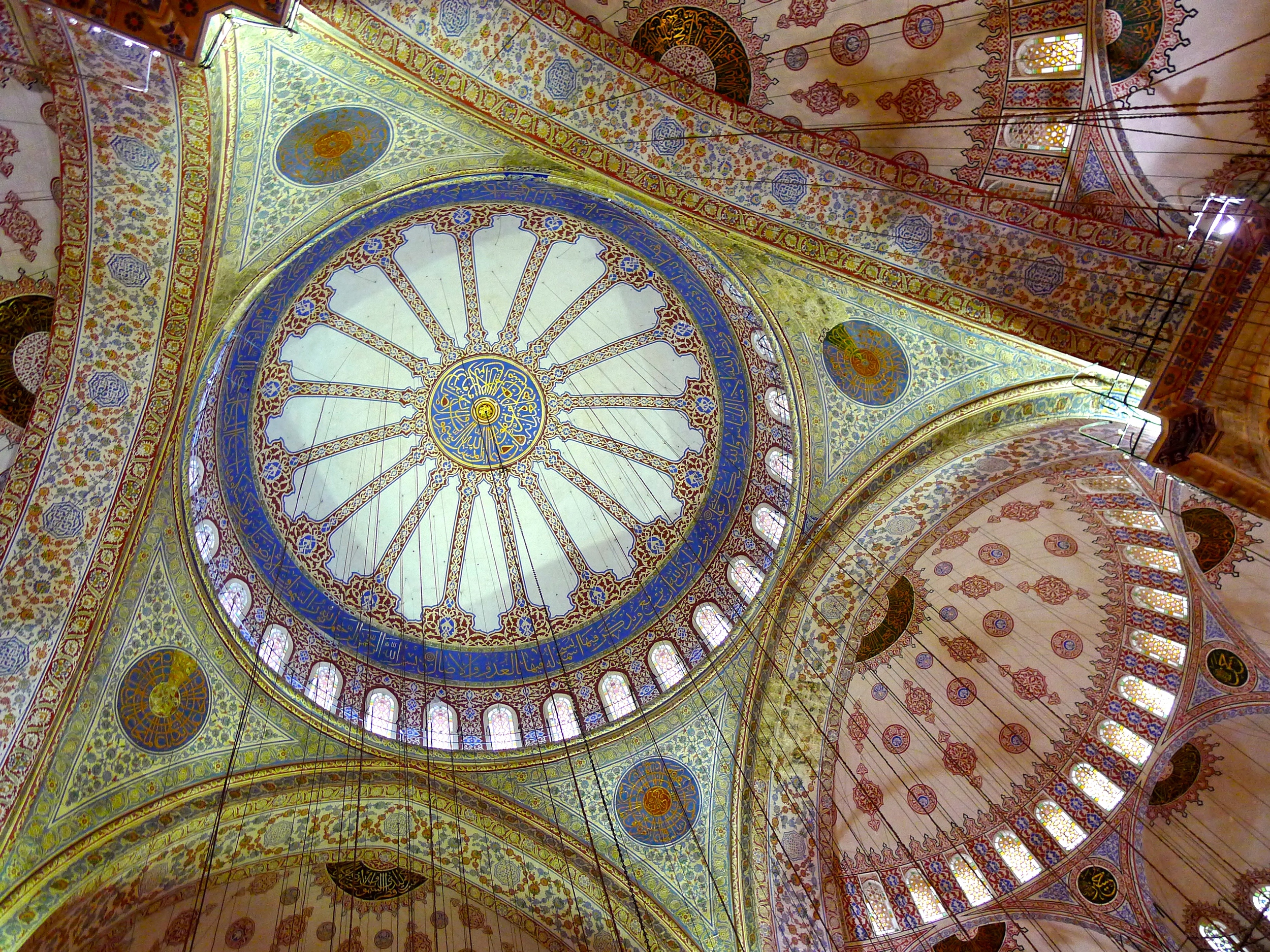 With it's ornate dark red carpet it's no wonder they ask visitors to remove their shoes. In addition to their shoes, women only are asked to cover their heads, arms, and legs. At the time I was wearing a pair of my skirted workout pants which must not have been modest enough because in order to enter I had to wear a piece of cloth around my legs that they provided me.
We spent a short 10 minutes admiring the large room before growing bored of things. While the Mosque is spectacular, other than the one large room there's nothing left to observe.
Satisfied tourists, doner kebob in hand, we had made he most of our 27 hours in Istanbul. Italy was next.
BONUS TRAVEL NOTE: While In Turkey I learned what a 'doner' is: street meat, usually lamb or chicken, shaved from a larger portion of a vertical, spinning stack that is added to a pita type bread along with veggies and a garlic sauce. They are delicious.
This entry is part of the 2014 Italy (& Turkey too!) Travel Blog Series. Read this story and then the rest HERE.